Description
Multiple features warrant outstanding performance
Dedicated areas on MaxContact™ MC6's tread design deliver high degrees of performance from the tyre. These features cover all directional pushes that are put on the tyre tread.
Stabilizer Bars
Fix and stabilize the exterior make blocks and the longitudinal rib to create one stable product, for increased handling and cornering grasp. With regards to the aspect, there are about 50 stabilizer bars positioned about the tyre's circumference.
Asymmetric Rib Geometry
The helping angles of the rib-shoulders prevent slanting of the ribs under heavy cornering manoeuvres and clear changes of steering direction, thus ensuring an increased cornering response.
Longitudinal Chamfered Edges
Avoid the rolling-in-effect of the ribs in the lateral route for maximum contact area to attain enhanced cornering grasp and stability.
Chevron Grasp Elements
Performance designed Chevron Grasp Elements allow even pressure syndication during cornering even inside tyre of the automobile resulting in increased grip, better damp braking and handling.
Secure Rib Structure
To attain faster dried out braking and useful grip for acceleration, these longitudinal ribs are engineered to avoid stop distortion by transferring circumferential forces successfully to the street.
Noise Breaker 2.0
Reduces the noise waves which movement through the grooves to ensure an appropriate low noise trip.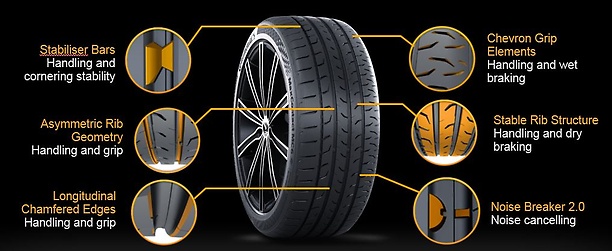 Delivers high degrees of hold when needed most
The special adhesive polymers within the MaxContact™ MC6 compound are specifically made to accomplish the extreme high grip requirements of the driver.
Continental is a technology leader in compounding. For MC6 we took all degrees of traction into consideration to attain maximum hold under all conditions.
Hysteresis
Acts on a µm-scale, produced by the deformation of visco-elastic constituents on a micro level due to surface unevenness or stick / slip actions of the tyre while driving.
Adhesion
Acts on a nanometre-scale, superior adhesion to the road surface created by molecular forces – based on the 'Van-der-Waals-Forces" – which bonds the polymers to the road surface on a nanometre level.