Description
Continental CC5 185/65 R15 is developed for luxury touring and mid-class vehicles. Continental CC5 185/65 R15 excel beyond all expectations and also proves the effectiveness of Advanced Silica Compound Technology. This advanced technology is a compound engineered entirely by Continental's Materials Engineering Professionals.
Advanced Silica Compound Technology is a lightweight and highly sturdy compound. This helps in reducing fuel consumption. CC5 185/65 R15 lighter weight aids vehicle acceleration and reduces fuel consumptions. It also boosts engine power by taking full advantage of the available engine torque output and on top of all provides excellent braking.
Noise Breaker
One of the Conti Silent Pattern Groove features is the Noise Breaker technology. The CC5 185/65 R15 tyres have small lumps along longitudinal grooves of the tyres that break airwaves which are created as the vehicle advances through the air in front of the vehicle. This exclusive technology achieves exceptionally low noise levels and gives an amazing comfort during your drive.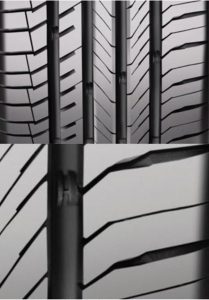 Comfort
V-shaped inner ribs make the rolling outcome of tyres uniform and smoother. Providing better stability and you experience a more comfortable drive. Inner ribs with Smooth rolling throughout the tyre circumferential provide Optimum driving comfort coupled with optimum safety performance.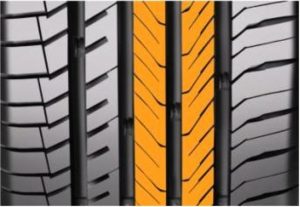 Fuel Saving
The Advanced Silica Compound Technology significantly reduces rolling resistance and helps to decrease fuel consumption. CC5 185/65 R15 is also an environment-friendly tyre as lower CO2 emission levels help in keeping our environment eco-friendly.
Harmonic Comfort Chambers
Harmonic Comfort Chambers are built on the "Helmoholtz resonator" principle. These particularly designed noise canceling chambers are placed on the inner shoulder of the tyre's tread pattern. Irritating noise generated by the road and tyre is significantly canceled out as airwaves flow through the chambers. This avoids noise emission for passengers, resulting in a quieter and comfortable ride.